i Ladies...I have decide to change a little the way I manage my CT...I may also offer you aCT call and also a "promote team".
One thing I ask, is to be motivated!!!! You will have 2 kits max per month to scrap...but I'm feed up with some girls who came in my CT and just introduice themself and after...no news. I know that real life can be hard sometime but just tell me if needed.
Please, respect the time I take to considerate your apply...beginner are welcome!!
I take time also to thank you to all my CT Ladies who are with me for such long time.....TYSM you're rocked!!!
coucou les filles...J'ai décidé de refaire un call avec un peu de nouveau...je vous propose un CT call classique mais aussi une team pour la promotion uniquement. La seule chose que je demande c'est d'être motivée....qu'est-ce que j'entends par là. Vous aurez grand maximum 2 kits par mois (c'est plutôt 1 souvent) à scrapper...et je suis fatiguée des personnes qui entre dans la CT, qui viennent juste se présenter et ensuite , plus aucune nouvelle!!! Je sais que certains moments de l'année ou de la vie sont plus compliqués que d'autres, donc le moindre de shcoses c'est de prévenir (sans forcément entrer dnas les détails)
Veuillez juste respecter le temps que je passe à regarder vos candidatures.
J'en profite ausi pour un grand erci aux filles de ma CT qui sont avec moi depuis longtemps...vous assurez trop les filles, merci pour tout!!!
One of my store :
http://angels-scrap-shop.com/manufac...ufacturerid=38
click on to see bigger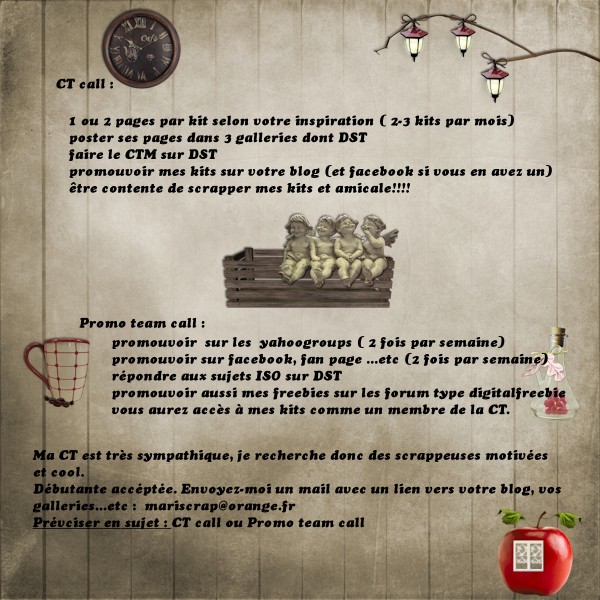 cliquer pour grossir!!!